photo by Erica Drewery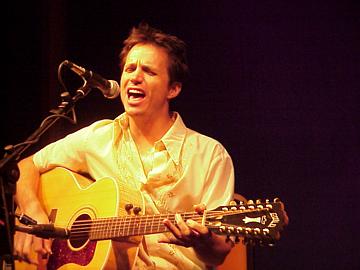 "So don't try to save me from myself
I'm falling away to somewhere else
I won't come down today
If you would cut me from my ties then I'll float away "
- Float Away
It's hard to put my appreciation for Ian's music into words, but the overall theme there is that he totally changed the way I view music. He represents pretty much everything I stand for in music- originality, enormous talent, excellent musicianship, and constant change and evolution. His records have consistently gone in new directions and his live shows are usually a completely different experience every time.
Over the last few years he has balanced full band rock shows with shows where it's just him and an acoustic guitar (he's going more and more in this direction). The ability to go from one kind of music to another so quickly, and completely master what he is doing, is something I've never seen to that degree from anyone else.
Ian's two biggest influences were The Beatles and Stevie Wonder, and his eclectic music tastes show in the music he plays. In addition to his original songs, Ian also posseses the ability to play a cover song that even outshines the original artist that recorded it. Examples include "Many Rivers To Cross" by Jimmy Cliff and "You're a Big Girl Now" by Bob Dylan, among countless others.
I consider myself lucky to have lived in Austin because I got to see him live semi-regularly (and still do in Seattle where he plays solo acoustic fairly frequently), and there is no better live performer or singer on the planet (Guy Forsyth maaaaaaybe....).
If you haven't seen him live or heard his records, check it out because his music has changed a lot of people's lives, including mine.
Discography
Ian Moore
1994
Live From Austin
1994
Modernday Folklore
1995
Ian Moore's Got The Green Grass
1998
And All The Colors
2000
Via Satellite (live)
2001