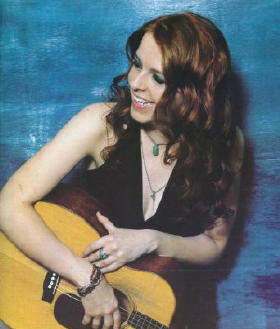 "Even in my darkest recollection
There was someone singing my life back to me"
- Guided By Wire
Although Case considers Tacoma her hometown, she also spent considerable time in Vancouver and Seattle before moving to Chicago in 2000. This royally sucks because living in Seattle when she was launching her solo career would have been great. She played my favorite venue quite often (The Tractor) and worked at one of my favorite hangouts (Hattie's Hat)... Guess my timing in moving here was a bit off! Anyway, Neko brings a lot to the table and is one of the more talented and fascinating musicians out there today. She is an awe-inspring singer, great songwriter, clever personality, and.....a babe too! Full of attitude, she'll always say exactly what's on her mind which is why reading her interviews can be quite entertaining. She dabbles in so many projects and right now is concentrating on both her solo career and her involvement in the successful Vancouver-based pop group The New Pornographers. Her styles range from traditional country to pop to rock- she's all over the place and possesses the talent to do just about whatever she wants.
Discography
The Virginian
1997
Furnace Room Lullaby
2000
Canadian Amp
2001
Blacklisted
2002
With New Pornographers

Mass Romantic
2000
Electric Version
2003

With The Corn Sisters

The Other Women
1998
With Maow

The Other Women
1996