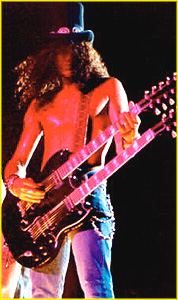 "Me and a friend decided
To leave our lives behind..."
- Be The Ball
Slash is one of the most misunderstood musicians, and that's partly his fault. He does often project himself as a drunk so it is easy to look at him just another rock dinosaur. However, he's actually a very soulful guitar player that posseses an uncanny sense of melody. I think it was him, and not Axl Rose, that made Guns N Roses, but that's just my opinion of course. He doesn't believe in unnecessarily fancy soloing, but instead concentrates on creating melodies and attitudes that fit the song. He's also very busy- he's always either doing something with his own band Slash's Snakepit (very underrated in my opinion), contributing to other artist's records, or getting upstage and jamming with someone if he doesn't have anything else to do. He's just rock n roll down to the bone... His versatility on the guitar allows him to play with anybody, and if I listed all the records he's played on, the page would be very long indeed. I'm a big fan of guitar players, and though there are many that could probably out "shred" him or know more guitar tricks, Slash's music has always spoken to me the most for some reason.
Discography
With Guns N Roses

Appetite For Destruction
1987
Lies
1988
Use Your Illusion I
1991
Use Your Illusion II
1991
The Spaghetti Incident
1993
With Slash's Snakepit

It's Five O'Clock Somewhere
1995
Ain't Life Grand
2000
Millions of Other Guest Appearances