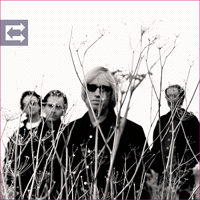 "For just a minute there I was dreaming....
For just a minute it was all so real"
- Southern Accents
Tom Petty has been making quality music for a long time, and his releases keep getting better. I prefer his last few releases to the old stuff, but think his track record is impressively consistent. I really started getting into him when Wildflowers came out because I thought that was such a neat record. The sountrack he did for She's The One is also terrific, as is his 1999 release "Echo". He's always done things his own way and at times rebelled against the record industry as he does on his new record "The Last DJ." He's one of the few artists I've seen that has been popular for a long period of time and continued to evolve and improve his music. Like Dylan, his recordings kind of mirror what is going on in his life at that certain time which gives the songs even more meaning and validity. I see him being about the music more than anything else (rare these days), which is probably why his music is consistently among the most quality out there. Simply a rock and roll legend, and he's still going strong.
Discography
Tom Petty and the Heartbreakers
1976
You're Gonna Get It!
1978
Damn The Torpedoes
1979
Hard Promises
1981
Long After Dark
1982
Southern Accents
1985
Pack Up The Plantation Live!
1985
Let Me Up(I've Had Enough)
1987
Full Moon Fever
1989
Into the Great Wide Open
1991
Greatest Hits
1993
Wildflowers
1994
She's The One Soundtrack
1996
Echo
1999
Anthology: Through the Years
2000
The Last DJ
2002