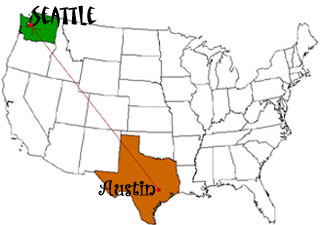 *Updated since my move to the Northwest!
This section will be short........I like to talk a lot more about my interests than about myself....But here's a brief synopsis:
I'm 26 years old and reside in Seattle, WA. I moved up here from Austin, TX where I lived for about seven years when I started at the University of Texas at Austin (yes, home of the prestigious Longhorns). However, I'm from all over really....Starting life off in the north in Chicago and Milwaukee probably gave me my preference for cooler weather and living in Louisiana gave me my preference for not living in Louisiana. My high school years took place in my family's current home of Houston, so we'll call that home. However, sometimes life beckons you to go in a different direction, so I jumped at the chance when I was no longer in "employed" status in Austin to migrate back to the north. Seattle had always intrigued me, and upon visiting it a couple of times, I realized it was the place for me. You can't beat the natural beauty, the moderate climate, the casual attitude and the entertainment environment. I think that in life you have to take chances that don't make that much sense at first but you feel right about, and I guess that's what I'm doing. Change and new things should be embraced and not feared because life's too short to not take chances, don't you think?
At UT I majored in marketing and the Austin music scene... and after a short stint at Dell Computer I ended up at local website Austin360.com working in Internet Advertising. It was a cool two years, but we pretty much bit the dust in the end when the economy dropped out. I was ready for a change though, so I said "Hey! I think I'll move 2200 miles away, might be fun!" I've also been writing for an Austin entertainment publication called InSite, as a fun thing to do on the side. I basically got to interview several of my favorite musicians and also some of my not-so-favorite-much-more-famous musicians (Incubus, Disturbed, etc). Actually, my career aspiration is to work in the entertainment industry doing music or movie marketing (or writing). We'll see...
Well, that's about enough of the bio section! I created this site to express my interests in things like music and movies, both of which are important to me. I guess it also serves as a place to dump random photos of some adventures and make you look at them...