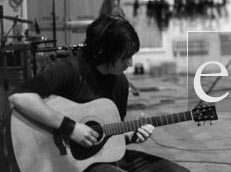 "She appears composed, so she is, I suppose
Who can really tell?
She shows no emotion at all....
Stares into space like a dead china doll"
-Waltz#2
I love singer/songwriters and Elliott Smith is one of the best out there today. I discovered him after the Good Will Hunting soundtrack came out and it was quite a joy to also discover the rest of his work. Many people would probably think that the songs are too depressing, but they are so real and most even have a glimmer of hope in them, which is important. He has the songwriting gift- able to always put poetry to music in a smart and clever way. I like him best when it's just him and a guitar, but he's also done more layered stuff with a band that also works well. XO is probably his best, though his newest release, Figure 8, takes a lot of chances that result in an interesting and fun listen. He doesn't have the deepest voice in the world, but his quiet, subtle voice suits the moods of his songs perfectly (like on "Between The Bars" for instance). This definitely isn't music for the masses, but it's music for anyone who appreciates beautiful intelligent songs that aren't afraid to explore the soul.
Discography
Roman Candle
1994
Elliott Smith
1995
Either/Or
1997
XO
1998
Figure 8
2000
Also in the band Heatmiser

Dead Air
1993
Cop And Speeder
1994
Mic City Sons
1996